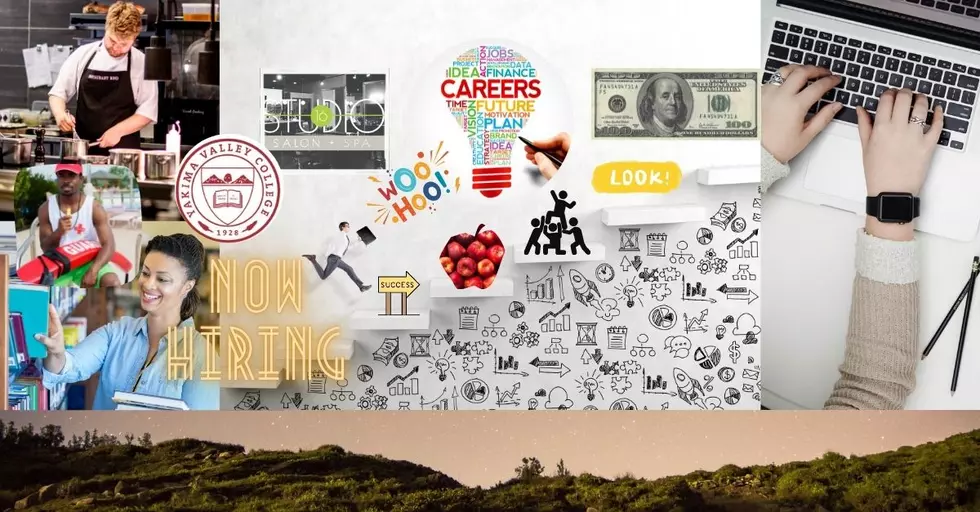 127 Yakima Valley Jobs to Help You Successfully Live Your Life
via canva
Searching for a job? From the Yakima Valley through the Tri-Cities and beyond there are plenty of local businesses who are looking to add to their team. Full-time, part-time, seasonal, internships, remote and more! Ready, set? Let's go!
Find The Job That's Right for You!
Are You a Licensed Hairstylist?
Studio 16 Salon and Spa is wanting to add a certified professional or two to the team
Comprehensive Healthcare covers Eastern, Washington and is full of opportunities, training, and more. You can volunteer for the hotline or work your way through the company while going back to school for degrees and they will help you pay for it!
Tree Top in Selah is hiring and also offering signing bonuses
2nd Street Grill is in need of a cook
Yaktown Motors is wanting to hire a secretary and a sales associate
The VFW is hiring a part-time and experienced bartender and server.
Yakima Valley College is in search of a Coordinator - Bachelor of Applied Science Programs, Program Assistant, Adjunct Communication Studies, Adjunct Allied Health Instructor, Nursing Instructor, Teacher Education, Soccer Coach, and more
Yakima Valley Libraries is wanting to hire a floating Library Assistant
Valley Mall in Union Gap stores that are hiring - Old Navy, The Gap, Victories Secrets, Bath & Body Works, Aeropostle, Starbucks, Macy's, Panera Bread, Kay Jewelers, The Children's Place
The City of Yakima is hiring a temporary aquatics cashier/concessions worker, temporary lifeguards, full-time police officers, and Solid Waste Maintenance Workers
Positions Available for 16-Year-Olds
Yakamart
McDonald's
Safeway
Dairy Queen
Taco Bell/KFC
Jobs
READ MORE: See 50 remote jobs that can pay well
LOOK: States With the Most New Small Businesses Per Capita
[=] 
KEEP READING: Here are the best places to retire in America