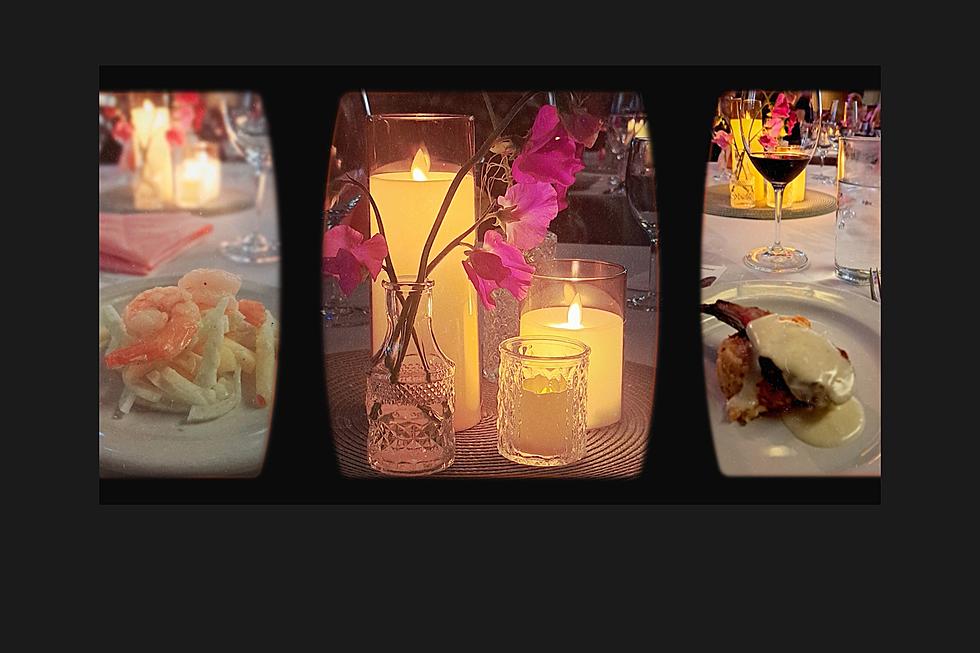 The Fun Wine Pairing Dinner at The Seasons Was Really…Grape
Reesha Cosby/Canva
The 1st Ever Wine Pairing Dinner at The Seasons Was Really...Grape!
I can sum up this review of the first-ever wine pairing dinner inside the main hall at The Seasons Performance Hall in consise words: Narratif Wines' JJ Compeau was a lot of fun and Chef Patrick Levad outdid himself with the menu! This event was a magical night; it included a unique blend of fine dining, fine wine, and fine musical performances.
Judging by my experience at the wine pairing dinner, it was quite the success. Narratif Wines connoisseur, JJ Compeau, teamed up with The Seasons Bistro Chef Patrick Levad along with local celebrity musicians Bart Roderick and Bella Dagdagan. 
This 21+ event, labeled as The Perfect Pairing-Wine Dinner, this event boasted a five-course meal, culminating in a surprising and bold dessert choice. (You can peek at the menu below.)
The menu was crafted by Chef Levad with collaboration with  winemaker, Compeau, who is a passionate believer that "every [Washington state] wine has a story." Compeau, a native of Yakima, is a former winemaker for Côte Bonneville, and has over 20 years of experience making quality Washington AVA wines.
The small and intimate wine pairing dinner was sold out, with nearly 50 tickets being purchased by wine aficionados, huge foodies, and supportive fans of Narratif Winery's wine club. Thru this noteworthy event, Compeau helped raise awareness of the need for community support to help keep The Seasons Performance Hall in business.
Classic jazzy melodies including Édith Pilaf's "La Vie en Rose", Frank Sinatra's "Fly Me to the Moon", and "Dreams" by Fleetwood Mac were paired with each food course. Event attendees enjoyed fun conversations with each other and some even made new friends, whilst JJ Compeau traveled around the room and greeted all of the guests and went to the stage before each course was served to give background on the wines he paired with the food.
Guests raved about Chef Patrick Levad's food and JJ Compeau's wines and the exquisite musical performances by Bart Roderick and Bella Dagdagan (whose voice was being compared to singer Norah Jones). She not only a staff member at The Seasons, she also has an upcoming concert with others.
"He doesn't miss a beat!" exclaimed Compeau, upon hearing a smooth musical transition from Roderick on the piano and being moved by the melodies he played. 
I don't think any part of The Season's first-ever wine-pairing dinner missed a beat, either. The venue's Executive Director, Megan Nobbs, says that this is the first of many wine-pairing dinners to come. Guests came from as far as Puyallup and Tri Cities to attend this sold out wine-pairing and music event at The Seasons in Yakima, so there is an audience with a hunger for these types of events, no pun intended.
THE FIVE-COURSE MENU
FIRST COURSE: Grilled Shrimp with fennel and Cosmic Crisp apple slaw, in a Greek yogurt dressing
WINE: Albariño
SECOND COURSE: Strawberry chutney and Spanish goat cheese on arugula salad
WINE: Rosé
THIRD COURSE: Grilled lamb chops with root vegetable mash and feta béchamel sauce
WINE: The Collaboration Red
FOURTH COURSE: Beef Tenderloin with roasted beet and red wine reduction
WINE: Red Willow
5th COURSE - DESSERT: Blue cheese ice cream with red wine reduction
WINE: Savour Red Blend
First Ever Wine Pairing Dinner at The Seasons
Got a news tip? Email us here.
TRENDING STORIES:
LOOK: Here's where people in every state are moving to most
LOOK: Baby names that are illegal around the world
Stacker
scoured hundreds of baby name databases and news releases to curate a list of baby names that are illegal somewhere in the world, along with explanations for why they're banned.