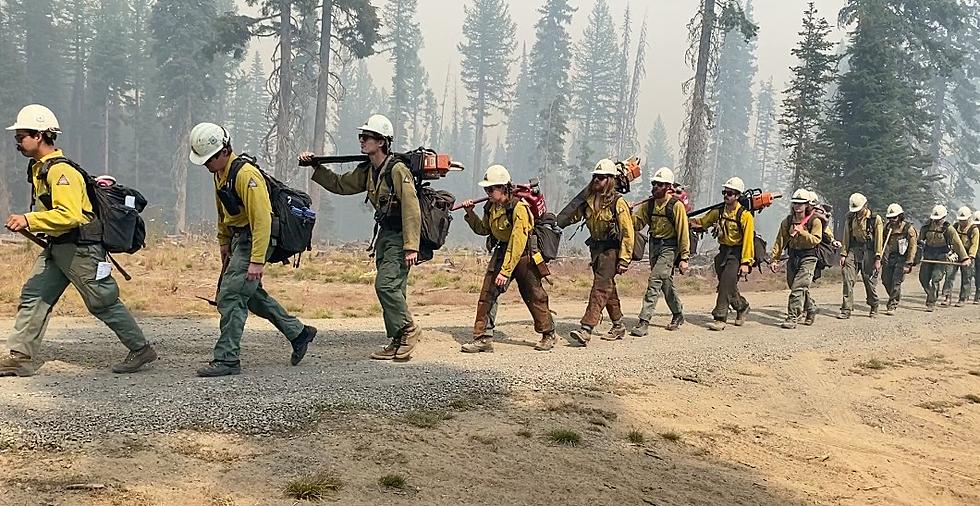 The Fire Keeps Fighting Back As The Blaze Battle Continues
Schneider Springs Fire Facebook page
Slow growth and slow containment. That's the latest on the Schneider Springs Fire.
The fire remains at 31% containment, the same number the fire was at on Sunday.
The fire, which started August 3 by a lightning strike grew from 104, 853 acres on Sunday to 105,447 acres Tuesday.
FIREFIGHTERS ARE READY FOR INCREASED TEMPERATURES
Officials with the Okanogan-Wenatchee National Forest say "temperatures are expected to warm back to seasonal norm around 75 degrees with southeasterly wind conditions on Wednesday. Removal of structure protection in and around the Bumping Lake campground will resume. Firefighters will be working to secure the last open portion of the line outside of the wilderness, installing containment line from the FR 1791-364 to Bumping River. If conditions prove to be favorable, burning operations will occur along the north/south containment line northwest of Cliffdell to help reinforce the line. Smoke may be visible to the public. Crews will, once again, patrol and monitor areas along Highway 410 south of Cliffdell to the Highway 12 junction and from Highway 12 westward. A repair group will be working on road improvement along Indian Creek Road.
RESOURCES ARE SHRINKING BUT HUNDREDS STILL REMAIN
There's a lot of people and resources on the fire but the number is shrinking. On Monday 671 resources were on the fire. The number Tuesday is 494 which includes;
Crews (8); Engines (29); Dozers (3); Air Resources (3); Other Heavy Equipment (24)
The helicopters dumping water on the fire are based at the Yakima Airport and fly to and from the airport during the day for refueling.
CHECK THE INFO AND EVACUATION LEVELS
Evacuations:  LEVEL 2: Bumping River Road corridor from north to south; Highway 410 corridor from Salmon Cove to Pinecliff; LEVEL 1: Highway 410 corridor from Pinecliff to the junction of U.S. Route 12, and from U.S. 12 at Hwy 410 west to Tieton Reservoir Rd. See map at Yakima Valley Emergency Management: https://www.facebook.com/YakimaCountyOEM . To sign up for alerts at Yakima County geo-specific emergency alert system: https://www.yakimacounty.us/2222/Alert-Yakima
Closures: Closures on the Okanogan-Wenatchee National Forest lands remain in effect. More information can be found at: https://inciweb.nwcg.gov/incident/closures/7775/. Washington Dept. of Natural Resources (WADNR) lands continue to have restrictions on campfires. As of September 16, WADNR managed lands outside the fire area are open. For more information: https://tinyurl.com/WADNR-lands-reopen.
Firefighters are hoping for full containment by October 1 but the fight continues until that date.
LOOK: Stunning vintage photos capture the beauty of America's national parks
Today these parks are located throughout the country in 25 states and the U.S. Virgin Islands. The land encompassing them was either purchased or donated, though much of it had been inhabited by native people for thousands of years before the founding of the United States. These areas are protected and revered as educational resources about the natural world, and as spaces for exploration.
Keep scrolling for 50 vintage photos that show the beauty of America's national parks.