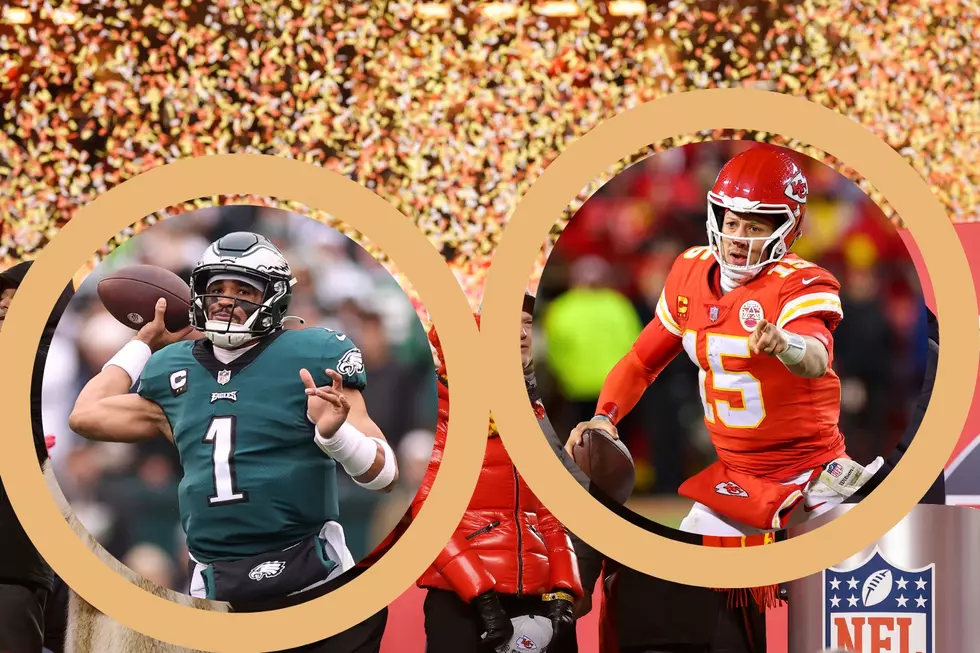 Who Are WA, OR, & CA Fans Cheering, Betting on Super Bowl LVII?
Getty Images, Canva
The stage is set for Super Bowl LVII.
For those who need a little help navigating Roman numerals, that's 57. As a Seahawks fan, it's hard to believe that it was way back in 2013 that the Hawks triumphed in Super Bowl 48 and subsequently came very close to repeating in Super Bowl 49.
Which Two Teams are Competing in Super Bowl LVII?
The Philadelphia Eagles defeated the San Francisco 49ers 31 - 7 in the NFC Championship game on Sunday, January 29th to advance to the big game. Meanwhile, the Kansas City Chiefs squeaked out a win at home versus the Cincinnati Bengals 23 - 20.
The two teams will square off in Super Bowl LVII on Sunday, February 12th in Scottsdale, Arizona, at the home of the Arizona Cardinals.
Where Can You Watch Super Bowl LVII on TV?
The game will be broadcast on FOX TV. Word is that Tom Brady will be joining in on the coverage, perhaps to check out his comfort behind the microphone for a post-football career move.
Early odds appear to be favoring the Chiefs by about 3 points, but a lot can change over the two weeks leading up to the event.
Who Will Washington, Oregon, and California Football Fans be Rooting For?
Who will west coast fans be rooting for in Super Bowl LVII? It's hard to say since we know that most football fans support the Seattle Seahawks in states like Washington, Oregon, Alaska, and Idaho. While the recently ousted San Francisco 49ers are a favorite among California and Hawaii fans.
The Seahawks, Rams, and 49ers are all NFC teams, so will west-coasters be supporting the Eagles over the AFC representative Chiefs? Are there such conference loyalties as there often are with Major League Baseball? I don't know. But this Seahawk fan was rooting for The Bengals. We know how that worked out.
PHOTOS - NFC & AFC Championship Games
MORE TO READ
LOOK: Here's where people in every state are moving to most
LOOK: See the iconic cars that debuted the year you were born
LOOK: These Are the Richest NFL players
To uncover the richest NFL players,
Stacker
consulted
Celebrity Net Worth
and ranked them by their 2022 net worth, calculated using a proprietary formula.