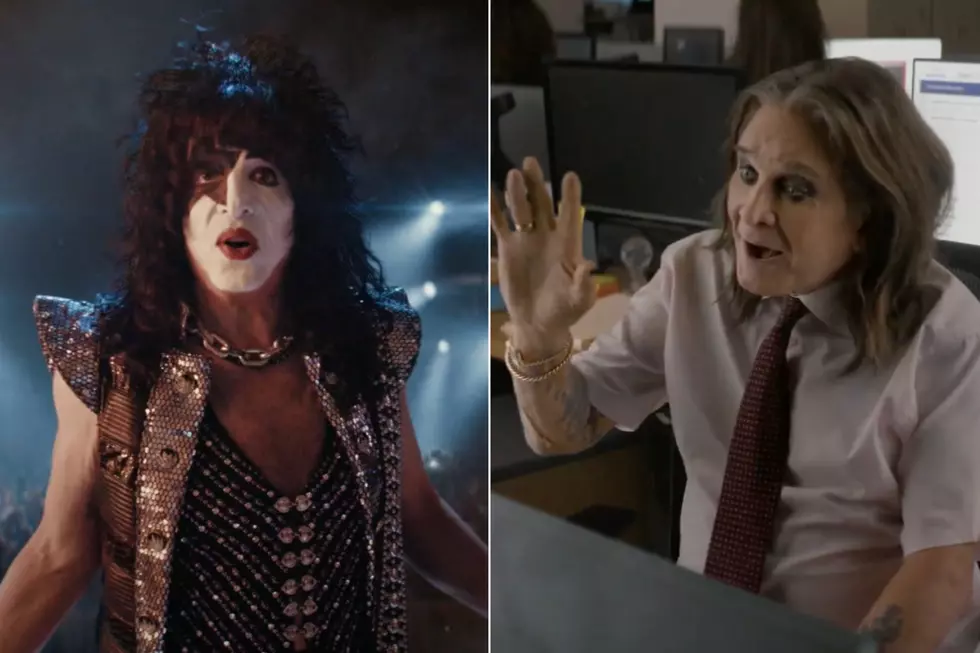 Kiss and Ozzy Rebuke Corporate 'Rock Star' Lingo in Super Bowl Ad
YouTube
Paul Stanley, Ozzy Osbourne and several other rockers are fed up with companies that call their employees rock stars for completing basic tasks with proficiency, and they're airing their grievances in a new Super Bowl ad for Workday.
The previously teased spot, which you can watch below, opens with Stanley closing out a Kiss show, then wheeling around to implore viewers, "Hey, corporate types, would you stop calling each other rock stars?"
The Starchild is not alone in his sentiment. "Do you know what it takes to be a rock star?" Joan Jett asks next. "I was on the road since I was 16." Meanwhile, Billy Idol boasts, "I've trashed hotel rooms in 43 countries." The Prince of Darkness (and king of debauchery) then quips, "I've done my share of bad things — also your share of bad things."
Later in the commercial, two plainly dressed Workday employees ask, "Who's the new guy?" Osbourne, wearing a button-up shirt and tie, then spins around in his chair and introduces himself as Ozwald.
The rock star commercial is a splashy, high-profile Super Bowl debut for Workday, the cloud-based financial management software company. "We know that using Workday for finance and HR makes you great at your job," Stanley insists. The camera then cuts to Gary Clark Jr., who finishes his thought: "But that don't make you a rock star."
This isn't the first time Stanley has appeared in a Super Bowl commercial. He and his Kiss bandmates promoted Dr Pepper Cherry in a 2010 ad, which featured them playing "Calling Dr. Love" alongside their miniature doppelgangers. Osbourne also starred alongside Justin Bieber in a 2011 Best Buy ad, and all of the Osbournes appeared in a Pepsi spot in 2003.
How Come These 10 Rock Artists Have Never Played the Super Bowl?
There was a time when rock acts dominated the Super Bowl halftime show. What happened?