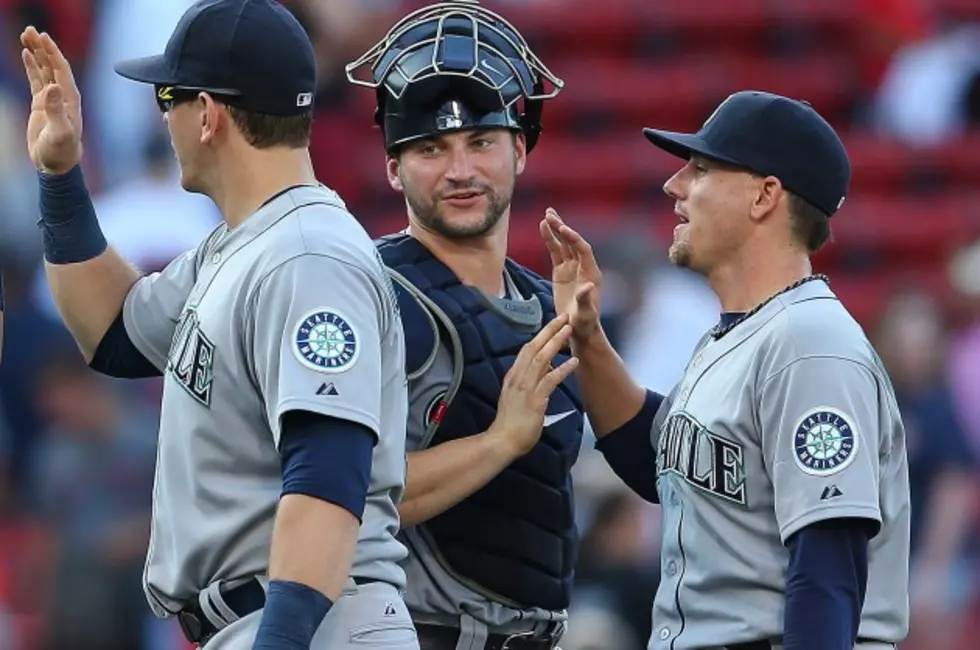 Mariners Blow 7-1 Lead, Still Hold Off Red Sox in 12
Getty Images
BOSTON (AP) — It could have been another embarrassing loss for Seattle. Then Mike Zunino and Kyle Seager led the Mariners to a sorely needed victory.
Zunino and Seager each had an RBI single in the 12th inning, and the Mariners blew a big lead before edging the Boston Red Sox 10-8 on Sunday.
"As a manager you try not to get bad thoughts," Seattle manager Lloyd McClendon said. "We were up 7-1 and have a chance to add on. You knew it was coming and it came."
Franklin Gutierrez homered twice and drove in four runs as Seattle rebounded from an ugly start to the series. The Mariners gave up 15 or more runs in consecutive games for the first time in team history while dropping the first two games against Boston by a combined 37-11 score.
But their bullpen held off the Red Sox in the 12th after Carson Smith blew a save opportunity in the ninth.
Rob Rasmussen (2-1) worked two scoreless innings. Danny Farquhar got the final three outs for his first save.
"For us to get the win and the bullpen to really battle was a tremendous job by us," Rasmussen said.
Seattle also got five hits and three RBIs from Robinson Cano, and Nelson Cruz connected for his major league-leading 36th homer.
Xander Bogaerts and Rusney Castillo homered for the Red Sox, who lost for the first time under interim manager Torey Lovullo. Brock Holt had three hits and scored three times, and Travis Shaw also has three hits.
"That's really the theme for me today, is that we chipped away at a 7-0 lead and had a chance to win that ballgame," Lovullo said.
Lovullo took over Friday when manager John Farrell announced that he was taking a medical leave for the rest of the season to deal with lymphoma.
Austin Jackson and Mark Trumbo opened the 12th with singles off Craig Breslow (0-3). Logan Morrison reached when Breslow bobbled his bunt for an error. With the infield in, Zunino then lined a single over the head of shortstop Bogaerts. Seager then lined a single to right.
The Mariners got off to a fast start, building a 7-0 lead against rookie left-hander Henry Owens. But Boston tied the game with two in the ninth against Smith.
Trailing 8-6, Bogaerts' run-scoring grounder cut it to one. Shaw drove in Holt with a bases-loaded single to left, but David Ortiz was cut down at the plate by Seth Smith's throw.
Lovullo understood why third base coach Brian Butterfield sent him on the play.
"I'm sure he's just going to tell me he was trusting his instincts and was forcing them to make a play," he said. "It was a short hop in the outfield, it was a couple of short hops throw at home plate, and they executed the game plan."
Cano homered over the bullpens in the first, and Gutierrez followed with a drive about 20 rows deep into the center-field bleachers.
In the third, Cano had an RBI single and Gutierrez homered into Boston's bullpen, making it 7-0.
Owens, making his third big league start, allowed seven runs and 10 hits in six innings. He struck out 10 and walked one.
"I think just by and large too many pitches up in the zone early," Owens said. "I didn't make adjustments."