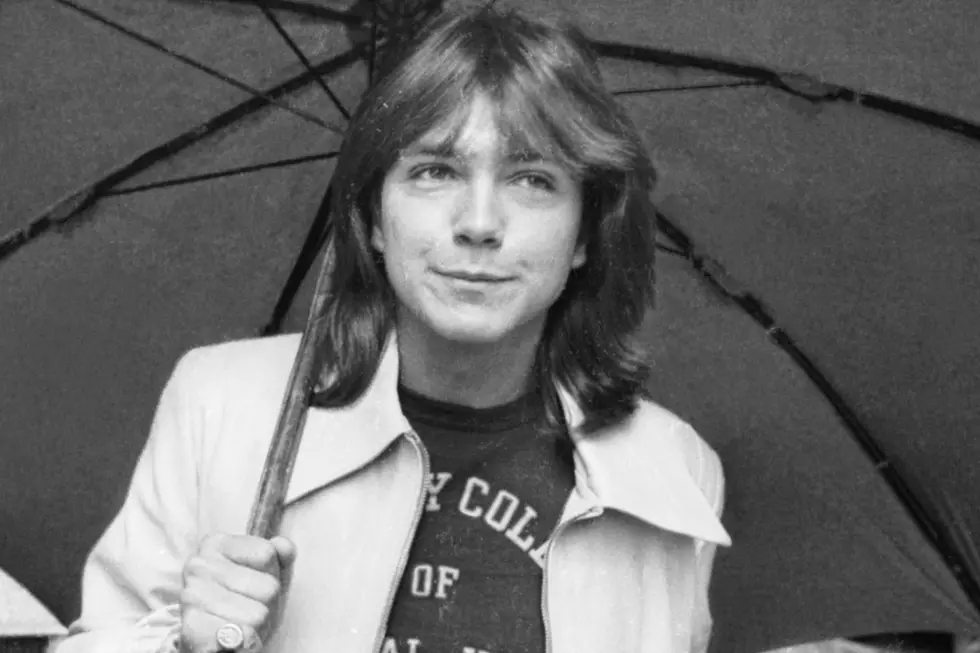 David Cassidy Dies at Age 67
Hulton Archives, Getty Images
"On behalf of the entire Cassidy family, it is with great sadness that we announce the passing of our father, our uncle, and our dear brother, David Cassidy," representative JoAnn Geffen said in a statement given to The Hollywood Reporter. "David died surrounded by those he loved, with joy in his heart and free from the pain that had gripped him for so long. Thank you for the abundance and support you have shown him these many years."
Cassidy was the breakout star of the ABC musical sitcom The Partridge Family, which was based on a real-life chart-topping musical family, the Cowsills.
The Partridge Family announced themselves the summer prior to the September 1970 debut of their show with the single "I Think I Love You," which eventually climbed to No. 1. Written by Tony Romeo, it was a perfect pop record, with traces of '60s bubblegum and a haunting melody.
The music was all performed by Wrecking Crew studio musicians such as Joe Osborn, Larry Knechtel, Mike Melvoin and Hal Blaine. The vocals, however, were handled by two members of the TV cast. Stage and screen veteran Shirley Jones sang harmony, and the lead vocals were done by her real-life step-son, Cassidy - who also played her son on the show. A natural singer, his warm and inviting style was just what the music needed. Young girls everywhere would soon be in love with both Keith Partridge and David Cassidy.
The Partridge Family went on to score seven Top 40 hits between 1970 and 1972, as well as four Top 20 albums. Cassidy also began a solo career that earned him even greater success in England, where he released seven Top 20 hits, sold out arenas and caused pandemonium with his primarily teenage female audiences.
Despite all this success and adulation, Cassidy longed to be away from the pop idol spotlight. This stemmed, in part, from an incident at a 1974 concert at White City Stadium in England. At the event, 14-year-old fan Bernadette Whelan got crushed in the frenzy of the crowd. She passed out, unconscious, later becoming the first fatality at a British pop concert. This event had a deep impact on Cassidy.
In addition, he had grown tired of the pop sound that made him famous. After The Partridge Family closed up shop in 1974, Cassidy tried to be taken seriously as a rock musician. In the summer of 1975 he released his first post-Partridge LP, The Higher They Climb. It was a clear attempt to distance himself from his past. However, unlike the Monkees, Cassidy could never break out of the mold cast for him.
The album featured a somewhat disjointed amalgamation of of pop, rock and soul. Produced by the Beach Boys' Bruce Johnston, the record included songs by the Phil Spector and Harry Nillson as well as a couple of Cassidy originals, including one co-written with former Buffalo Springfield and Poco member Richie Furay. One track of note, written by Johnston, was "I Write The Songs," which appeared here months before the release of Barry Manilow's version of the same song. Manilow's version would go on to top the charts in early 1976, while Cassidy's LP sank without a trace.
Undeterred, Cassidy tried again in early 1976 with the release of Home Is Where the Heart Is, a batch of songs that again failed to catch on with the public. His last stab at a solo career came in the fall of that same year with Getting It in the Street. His label never even bothered to release the album in the United States. Interestingly, the lead guitar on the title track was played by none other than guitar hero Mick Ronson.
As David Bowie's right hand man during the height of the Ziggy Stardust era, Ronson quickly became rock royalty, eventually playing with Bob Dylan, Ian Hunter and others. Despite being label mates on RCA, Ronson's association with Cassidy might have seemed a bit odd. "Well, I found out through a mutual friend that Mick wanted to produce me," Cassidy stated in a 1977 interview. "It was right after I left the Partridge Family and he told Tony Defries, who was managing Bowie at the time, and somehow Bowie found out and called me... and eventually I wound up playing with Mick."
There was even talk at the time of Ronson forming a new band with Cassidy and former Beach Boy Ricky Fataar. "David and I always get together when we're in the same town," Ronson told Creem in May of '77. "I can't really say any more than that right now. If anything happens, it will be nice to say it's definite. But it would be wrong to say it now. These things take time, it's not just like a quick, one-night decision. After all, we're talking about people's lives, and if we announce it now and it doesn't work out, everybody will look like idiots." Alas, the collaboration didn't go any further than that lone single.
Cassidy wouldn't release another album until 1990, concentrating instead on acting. One song on that self-titled release, "Lyin' to Myself," did give Cassidy his first Top 30 hit since the early '70s. That same year, he hit the big screen in the film The Spirit of '76. He was perfect in the role of Adam-11, who attempts to travel back in time to discover the birth of our nation, but instead ends up in 1976 alongside a cast that included Rob Reiner, Devo, Olivia D'Abo, Moon Unit Zappa, Leif Garrett, and Jeff and Steve McDonald from the band Redd Kross. The film remains a cult classic.
David Cassidy was a huge star, one of the great pop idols of his era, and though he may never have realized his dream of becoming a "real" rock star, he was never without diehard fans smiling whenever and wherever he appeared. Although he battled numerous personal, substance abuse and financial difficulties over the years, he always seemed genuinely happy to put an arm around his memories of the Partridge Family days.
Could he have made the transition to rock and roll? There was a certain something to his voice that, if given the right material, probably could have worked quite well. Alas, we will never know.