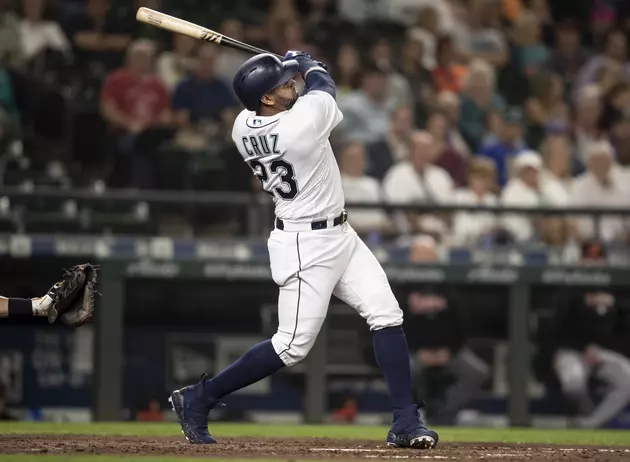 Back-to-back Homers by Cruz, Span Lead M's Past O's 5-2
Getty Images
SEATTLE (AP) — Dee Gordon says it's too early for the Seattle Mariners to be worried about the wild-card math. He thinks they should just concentrate on winning games.
Nelson Cruz and Denard Span hit back-to-back home runs, and Seattle overcame sloppy infield defense to beat the Baltimore Orioles 5-2 on Wednesday night.
Despite winning a home series for the first time since July 22, the Mariners failed to gain ground on Oakland in the race for the second AL wild card. They still trail by 5½ games with 22 remaining.
"We've got to play," Gordon said. "We can't look at the scoreboard. We can't look at other people."
Mike Leake (9-9) gave up two unearned runs in six innings to earn his first victory since June 23. Edwin Diaz locked down his major league-leading 53rd save, tied for fifth-most in a season.
Taking advantage of three Seattle errors, the Orioles grabbed a 2-1 lead in the fifth.
First baseman Robinson Cano couldn't dig out shortstop Jean Segura's throw on Jonathan Villar's grounder for the first miscue. Cedric Mullins scored on the play to tie it 1-all.
Two batters later, Adam Jones' grounder glanced off Segura's glove and into left field. Villar raced around and beat Span's throw home to put Baltimore ahead.
But leave it to Cruz to supply much-needed power at the right time.
With two outs in the fifth, Cruz hammered a 411-foot home run off Andrew Cashner to straightaway center field to tie the game at 2. It was Cruz's 34th home run of the season.
"We needed that," Span said. "Even though it was a one-run lead they had, it felt like we were down by three or four. (Cruz's home run) sparked us a little bit, and gave us a little bit more momentum."
Span took Cashner (4-14) deep in the next at-bat, sending a drive to right field, and the Mariners regained the lead. That also ended Cashner's outing.
"Andrew had a lot of counts in his favor," Baltimore manager Buck Showalter said. "He just couldn't finish off some guys."
Span's RBI single in the seventh scored Cruz, boosting Seattle's lead to 4-2. Span later scored on Guillermo Heredia's sacrifice bunt.
Mitch Haniger gave Seattle a 1-0 lead with a home run in the third, extending his hitting streak to 17 games — the longest active run in the majors.
Since taking two of three games from the Chicago White Sox in late July at Safeco Field, the Mariners were 0-4-1 in their past five home series before the Orioles rolled into town.
"It was nice for us to kick it into gear a little bit in the second half of that game," manager Scott Servais said. "That is how we need to play."
After spending six-plus seasons with the New York Yankees, reliever Adam Warren knows it will be a little weird facing his former team in a pivotal three-game series starting Friday.
Seattle acquired Warren in a trade July 30 for $1.25 million in international signing bonus money.
"I was probably the seventh guy in that bullpen. It was so deep," Warren said. "Pitching in a little bit more important situations (in Seattle) has been nice."
Which of his ex-teammates is likeliest to give him a hard time this weekend? Veteran outfielder Brett Gardner would be in the conversation.
"I am sure he will try and get in my head," Warren said.
A day after a fracas reportedly broke out between Gordon and Segura in the Seattle clubhouse, all was calm around the team.
Segura pitched a wiffle ball to his son on the field, and had him around the squad leading up to first pitch. Gordon also seemed in good spirits — but still in no mood to rehash what transpired.
"We're all good," Gordon said. "We get to play baseball."
Orioles: OF Craig Gentry was released and the team recalled INF Steve Wilkerson. He will be a bench player who can cover six different positions. . LHP Josh Rogers is the scheduled starter Sunday in Tampa Bay but could be bumped for RHP Alex Cobb, Showalter said.
Mariners: After clearing waivers, RHP Rob Whalen was sent outright to Triple-A Tacoma.
Orioles: OF-DH Mark Trumbo will have surgery on his right knee Thursday or Friday in Baltimore, Showalter said.
Mariners: RHP Hisashi Iwakuma (right shoulder) pitched for Class A Everett in a playoff game, giving up three earned runs in two innings. He will be re-evaluated Thursday to determine his next step.
Orioles: RHP Dylan Bundy (7-13, 5.36 ERA) faces All-Star lefty Blake Snell (17-5, 2.02) and the Rays in the opener of a three-game series Friday night. Snell, the AL pitcher of the month for August, has won five straight starts.
Mariners: LHP James Paxton (11-5, 3.74 ERA) pitches Friday against RHP Masahiro Tanaka (10-5, 3.83) and the Yankees. Paxton had a successful return from the disabled list Saturday in beating Oakland. He struck out 10 in five innings. Tanaka is 6-0 with a 2.34 ERA in eight starts against Seattle — and 3-0 with a 2.17 ERA at Safeco Field.