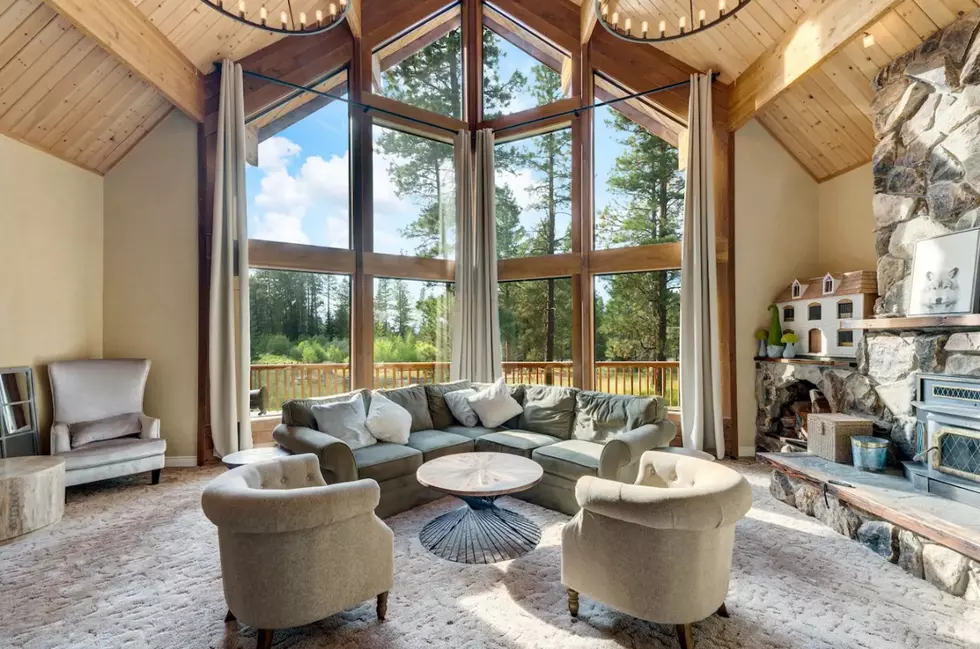 Where Do You Find The NW's Coolest, Mosts Expensive Airbnbs?
Iriana via Airbnb
Ever stayed at an Airbnb?
My in-laws have an Airbnb in Yakima and so does my wife's best friend.  They are both quite successful.
Airbnb Family Fun
My family rented one at the gateway to Mt Rainier for New Year's Eve and we had a blast.  It was a great big cabin with lots of room for 4 kids, 7 adults, and a dog with a cozy woodstove, log cabin charm, wildlife in the backyard, and more. 
We have many great memories that staying at a hotel or motel could never provide. I think we spent a little over $500 a night for three nights and divided between 3 families it was pretty affordable.
NOT all Airbnb's are that easy on the wallet and that's the point of this post. What are the most expensive Airbnbs in the Pacific Northwest and in the Country?
Washington's Big Ticket Airbnb
In Washington State, Port Angeles owns the distinction of being home to the Evergreen Lady's priciest Airbnb - according to a survey by online home decor retailer Joybird.
The cost of a three-day stay at the Sunny Lake Sutherland Cabin in Port Angeles is $10,112. Featuring 1 bedroom, 5 beds, and 1.5 baths for 6 guests.
Premium, rare & private lakefront cabin is 10 feet from the water's edge facing the southern sky for maximum warmth, sun potential, and spectacular view, 2 large decks between the cabin and water allow maximum use and benefit of the sun and lake water activities. The shore's water & sand are crystal clean & private.
That's significant but it's chump change compared to Idaho's most expensive weekend getaway.
Idaho's Pricey 3-day Stay
A 3-day stay at LaBelle Lake Retreat in Rigby, Idaho -about a 9-and-a-half-hour drive southeast of Yakima- could run you $18,316!  Featuring 7 bedrooms, 15 beds, and 4 baths for 16 guests.
experience the beauty & the serenity of this breathtaking 7,000 sqft lodge with large gathering rooms, tower, secret passageways, & beautiful architecture; 7-acre grounds include a lake, multiple ponds with the area's largest fish, gorgeous log crafted bridges, breath-taking new treehouse gazebo, nature trails on an island on the Snake River, wildlife all around, canoeing, paddle boating and activities and much more.
Economical Oregon Getaway
Compared to Idaho, Oregon's most expensive Airbnb is a bargain at $8,216 for 3 days. Green Acres of Hidden Hills is near McMinnville, about 4 and a half hours southwest of Yakima. Featuring 6 bedrooms, 10 beds, and 5 baths for a dozen guests.
Situated in a quiet meadow, with stunning wine country and mountain views in every direction. The modern 4,300 square-foot residence has large expanses of windows in every room to take advantage of the natural light. The modern home has a large communal kitchen and dining area, a billiards area, game room, and a 1,200 square foot outdoor entertaining courtyard featuring a bocce court and fire pit.
The Cost of the Most Expensive Airbnbs
The average cost for a 3-night stay was $16,513.22, while the average cost per night was $4,798.88. The extravagant Airbnb prices range from $45,000 to $26,215.  The 45-thousand dollar price tag is, as you might expect, attached to a 3-day stay in sunny central California at The Villa at The Estate of Yountville. Featuring 5 bedrooms, 5 beds. and 5and a half baths for 10 guests.
This Napa Valley getaway features 22 manicured acres to explore. The plush 5-bedroom — each with décor inspired by a distinct grape variety — villa boasts ample space for all guests, as well as a private pool and bubbling hot tub. Zip through Yountville's quaint villages by bicycle before indulging your taste buds at the many award-winning restaurants. A daily chef breakfast is included.
Yountville is about 12-hour-drive south of Yakima, in an area just north of Napa, CA.
On the flip side, the least expensive Airbnb on the survey costs $3,305 which will buy you 3 nights at a house in Fargo, North Dakota, 1,383 miles due east of Yakima  (21 hours by car), and NO PARTIES!
See the Must-Drive Roads in Every State