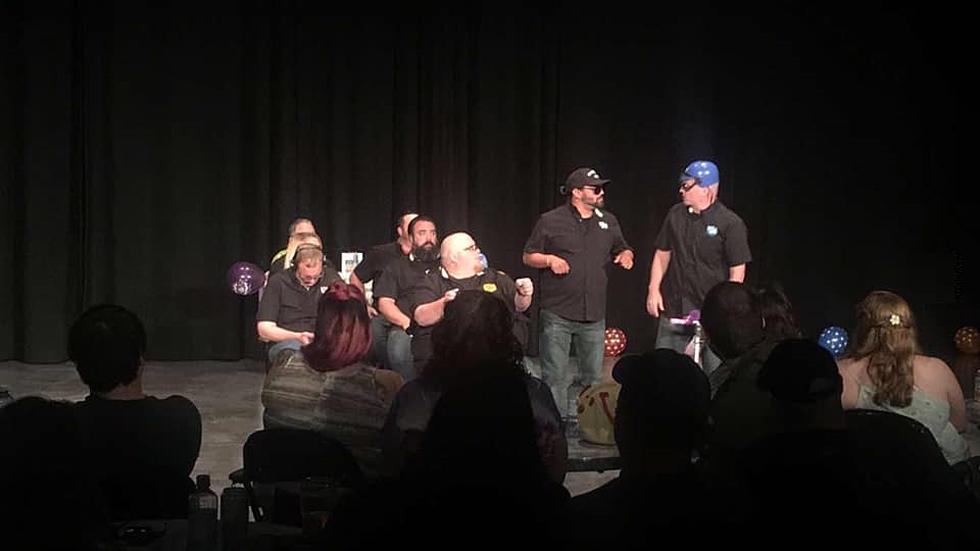 Manic Thunder's 10-Year Birthday Bash Wrapup! [VIDEO]
Jessica Ishizaka
Manic Thunder celebrated its 10-year anniversary with their final regular show at a packed Capitol Theatre's 4th Street Theatre! The show saw, for the first time since 2016, all eight members of Manic Thunder share the stage. Doing short form theatrical games using audience suggestions, and nothing planned or rehearsed, the troupe went out on a high note performing fan favorites.
Games like Sing on Cue, that dealt with a divorce attorney and the love triangle that he was involved in. A "wake and spank" scene in Everyday Shakespeare and a school field trip being stopped by the State Trooper. Of course, no birthday party would be a party without some Party Quirks, which saw performer Matt Trickey guess the identities the rest of the troupe who portrayed such characters as a ballerina, Britney Spears, Fran Drescher, The Lone Ranger, Cheech & Chong, Frankenstein's Monster and a large-handed proctologist!
The troupe is made up of Aaron Bennett, Scott McLaughlin, Julie Copeland, Tim Hubert, Rob Messer, Justin Mateo, Perry Peltier, as well as previously mentioned Matthew Trickey. They opened the show with a video (above) that told the 10-year history of the group, from their start in Selah to eventually the Capitol Theatre, and all spots between. The two-hour show, not only provided comedy but also gave away prizes and a special thanks to "Manic Minion" Brooke Waits from YVCC's improv group Adults Who Can't Adult. Brooke has helped the group out with many of their performances. Wrapping up the show, with a highly popular game titled "World's Worst" saw the group doing their takes on the world's worst EMT/ambulance driver, coroner, superhero, 2-year-old, improv troupe and adult film star. When an audience member yelled out world's worst "Audience Member!", Tim & Matt stopped the show, and said how they've "never really had a world's worst audience member, but the best" and directed everyone's attention to a video that showed a touching tribute of 10 years worth of pictures with audiences and fans throughout the years, all to the tune of "Thank you for being a friend!"