NERD NEWS & Review: Is MTN DEW's Game Fuel 1UP-ING Yakima!?!
tsm/Timmy!
I can honestly say this was the first new item I heard about, and then I was on a quest to find it. Earlier this month, i saw a post on Facebook about the Mountain Dew Game Fuel returning to stores. I never got the chance to try it before, so I knew this would be my chance, & I seized the day!
THE TASTE TESTING REVIEWING LEGAL STUFF!
Here's my fun little disclaimer! This is in NO WAY a paid advertisement for or against this brand of soft drink. I purchased a case of each flavor to taste, drink, and feed to my friends when they come over to game. I am reviewing these flavors of Mtn Dew without compensation or promise of payment in any form from any persons or company.
TASTE TEST OF MTN DEW GAME FUEL FLAVORS!
The red (Citrus Cherry) was initially released back in 2007 to coincide with the Xbox release of the Halo 3 video game. They decided to bring it back along with a new purple (Mystic Punch) flavor that is Diablo IV video game-themed. I tried the red one first. 
I didn't really get much of a cherry flavor. If anything, it was an extremely sweet orange taste to me. After drinking some water to cleanse the pallet, I tried the purple one. Did I get a grape flavor? I don't think so. It was weird because they both tasted similar, but because I saw the purple can, was my brain wanting me to taste grape? I might have to do a "Blind Taste Test" next time. 
Possibly The Best Winter Cookies Ever?
Summing up for both, they tasted like ground up sweet tarts mixed a seltzer water combined with a Redbull. Not bad, but not the best (in my opinion).
A 2nd, 3rd, 4th & 5th OPINION OF MTN DEW GAME FUELS!
Their reactions were pretty much the same as the Mtn Dew: VOO-DEW flavor that we reviewed. Someone compared it to liquid Starburst candy, another said it was a carbonated NERDS drink, and one after drinking both at the same time... "liquid skittles". The friend who compared it to Starbursts drank the Citrus Cherry flavor while the nerds comment was after the Mystic Punch. They each finished their cans, and I'm sure will grab another one next time their at my place.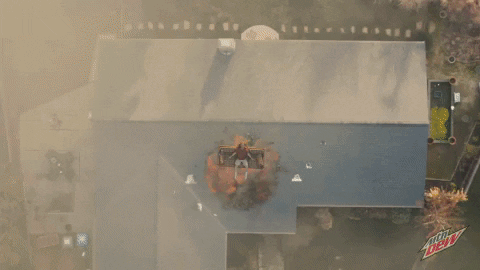 Giphy.com
THE QUESTION: DOES IT GIVE US FUEL FOR GAMING!
So, the real question is, did we want to play video games or anything after we drank them? With our ages ranging from mid 30's to late 40's, we were already playing a Resident Evil game and hanging out. So, technically it did give us "Game Fuel". Is this something that I think will help me with any other type of game... pool, horseshoes', touch football after Thanksgiving dinner? Probably not.
Could this drink be TOO SWEET for you or does it give you the energy you need to game for hours on end? Or is that right up your alley? Judge for yourself! Tap the App and let us know if you've tried and what your favorite soft drink is!
8 Awesome Ways to Use Potatoes for Your Game Day Snacks
Gallery Credit: Parker Kane
10 Junk Foods We Love
Here are my Top Ten Junk foods that we all love, Even though I try to eat healthier now I often crave these foods. Did your guilty pleasure make the list?
Got a news tip? Email us here.
MORE TO READ: