What Is JUGGING And Why Is It Spreading All Over Portland?
Canva
What is jugging? It sounds like a mix of juggling and drinking something all in one shot, like "chugging" a drink. I even asked my wife if she knew what Jugging was. She thought it was something dealing with the Insane Clown Posse. I laughed hard at that, mainly because I had no idea my wife even knew who that rap group was (she and I will talk later). No one in my inner circle knew what the term meant. So… "To the Google!"
What is Jugging?
With a quick Google search, I found that it is a type of predatory robbery, especially against people leaving a bank. The would-be criminal waits until they see a potential victim, usually suspected of carrying a large amount of cash. Then they follow them to their vehicle, and while the person is distracted, JUGGLING their stuff to get into their car (phone, wallet, keys, etc.); that is when they are robbed. The elderly have seem to be hit harder by this type of crime, but really anyone who is leaving a business or even returning home, and look distracted are potential victims.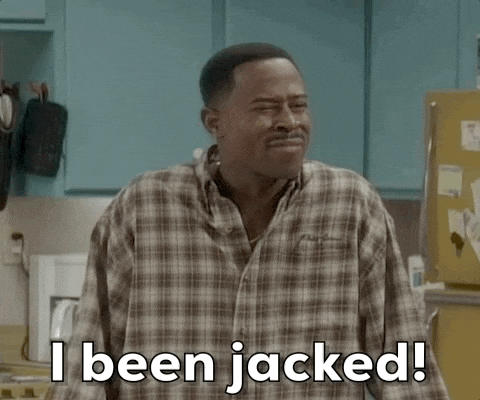 Giphy.com
Why Is Jugging Spreading All Over Portland?
This isn't just a problem in Portland, Oregon, but it does seem that Portland is in the news lately, and not always for good reasons. Between shoplifting, stores closing down and moving out, and the city's big homeless and drug problem, it is no wonder that crime is increasing. Theft is becoming (sadly) a regular occurrence in the city. Jugging is a type of robbery that takes very little preparation and is all about opportunity.
Tips To Keep you From Becoming A Jugging Victim
Some tips to keep you safe, and help prevent you from becoming a victim of Jugging, are pretty simple. When possible, travel with a friend or group. If you are walking alone, get everything ready for your trek. Ensure your purse/wallet/phone is secure and your keys are ready for your car. If you are heading to the bank, if possible, use the drive-thru, and keep your doors locked. Most important, be aware of your surroundings.
10 Most Dangerous Neighborhoods in Portland, OR
Have you been a victim of Jugging? What other tips do you have to stay safe? Tap the App, and please let us know, and be safe out there.
Got a news tip? Email us here.
TRENDING NOW:
10 WEIRD BARS IN PORTLAND, OREGON WORTH VISITING
Perhaps most of these weird bars are where the phrase, "Keep Portland Weird" originated. See for yourself below!
50 Places to Get Great Pizza in Portland
Looking for pizza tonight? Don't worry Portland has you covered. Try one of these 50 pizza places in Maine's biggest city.