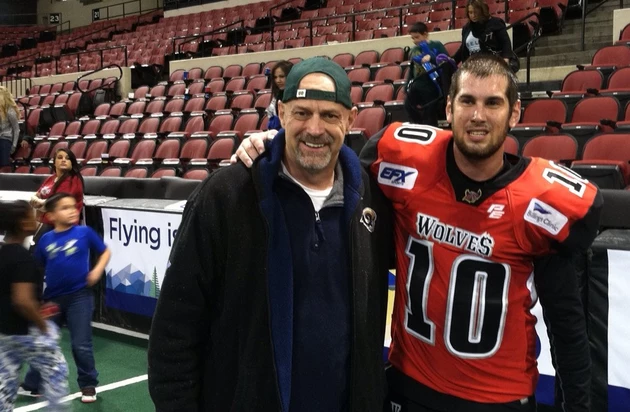 Even Making A Semi-Pro Arena League Roster Is A Dream For Some… And Darn Near Impossible To Do
Andy Winford/Townsquare Media
Back in June the Tri-Cities Fever played the Billings Wolves and I was able to catch up with an old friend who played for the Wolves after a game. His name is Taylor Genuser. He's 6'3" and about 225 lbs without an ounce of fat. He can throw the ball over the moon and by "over the moon" I mean about 70 yards which is good, even for an NFL quarterback. In one game I saw him backing up into his own end zone about 5 yards deep and fired it all the way into the opposite corner of the other end zone and hit his wide receiver right in the hands away from the defensive back. Touchdown! It was an amazing play and the kind of thing I used to see him do when we'd play flag football together on Saturdays. I would have killed to have his arm, accuracy and foot speed.
Taylor was cut before the end of the season. He ended up on another semi-pro roster in some other state. So I started doing the math. There are about 90 or so jobs for quarterbacks in the NFL, about 20 in the CFL, 18 or so in the Arena League, 20 or so in the Indoor Football League etc. Even if you count the sundry other semi-pro, minor and indoor football teams there are out there, there are no more than about 400 jobs for pro quarterbacks... and all but about the top 110 pay squat.
My point is that by pro football standards Taylor's career has been nothing special but in reality he's one of the 400 best quarterbacks in the world. Typically, if you're one of the 400 best at what you do IN THE WORLD you'd get paid pretty handsomely. Such is the life of a pro athlete. So when you head out next season to cheer on your Tri-Cities Fever try to remember how great these athletes actually are and the incredibly tough road they've taken to get where they are whether they graduate to a higher level of pro ball or not.