3 Yakima Businesses That Could Make A Great Streaming Show!
canva - tsm/DME
Streaming services need content like never before. Look at a lot of the programs that flood your feed. Some are amazing, and some are crap. Then you have some that are reality shows. If the reality show is crap, then you probably have a crappy life. Sorry, but you have a streaming deal, so it must not be that bad.
Some may knock Yakima, but we could have some exciting shows based on businesses right here in the valley. Movies like All Sorts and Cement Suitcase, which were filmed here, were very enjoyable. So why not take a show idea based in Yakima and pitch it to Netflix? You never know what could happen.
3 Yakima Valley Businesses That Could Make A Great Streaming Show!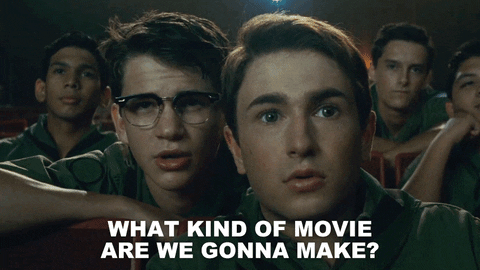 Giphy.com
3 - Kwik Lok Corporation
You know those little plastic bread ties. The little squares on bread wrappers. Well, those are made right here in Yakima. In fact, they are the global leader when it comes to bag closure. I see this as a show in the same style as "The Office." You could even call it something like "Company Ties" and even do an opening parody of the 80's tv sitcom Family Ties.
2 - Bron Yr Aur Brewing Co.
There are many great breweries to choose from in the Hop Capitol of the world, but I have to give some love to my old stomping ground of Naches. This show could be like Cheers meets American Chopper with a bit of Dirty Jobs thrown into the mix. I can see it being a reality show or maybe even a Hell's Kitchen type of competitive game show where homebrewers attempt to win the top prize! Heck, we could call it "Hell's Brewery!"
1 - The Orchard Industry
My family has a history of working in the Orchard industry. I see this as a type of "This Is Us" television show. An anthology show that focuses on many families and aspects of the industry and farms. You can even go into the warehouse, the semi-drivers, the orchard owners and their families, competitors, and of course, the workers. The show could focus on the drama that can come from the industry, with laughs and comradery sprinkled in. One joke I remember doing while working for my grandfather was eating apples and leaving the core HANGING from the tree. Only to hear one of the pickers start cussing after he'd grabbed unexpectedly.
What Yakima Valley TV show would you pitch? Tap the App and let us know. Maybe someone at Netflix or Disney will see this article and come knocking!
Got a news tip? Email us here.
TRENDING STORIES:
10 Popular TV Shows That Were Almost Cancelled Too Soon
Netflix Search Codes To Help You Find Movies/TV Shows
Stuck wondering what to watch on Netflix? Check out these codes that bring up all the options in different genres.
5 Fun Things To Do in The Coolest Small Town in WA: Friday Harbor