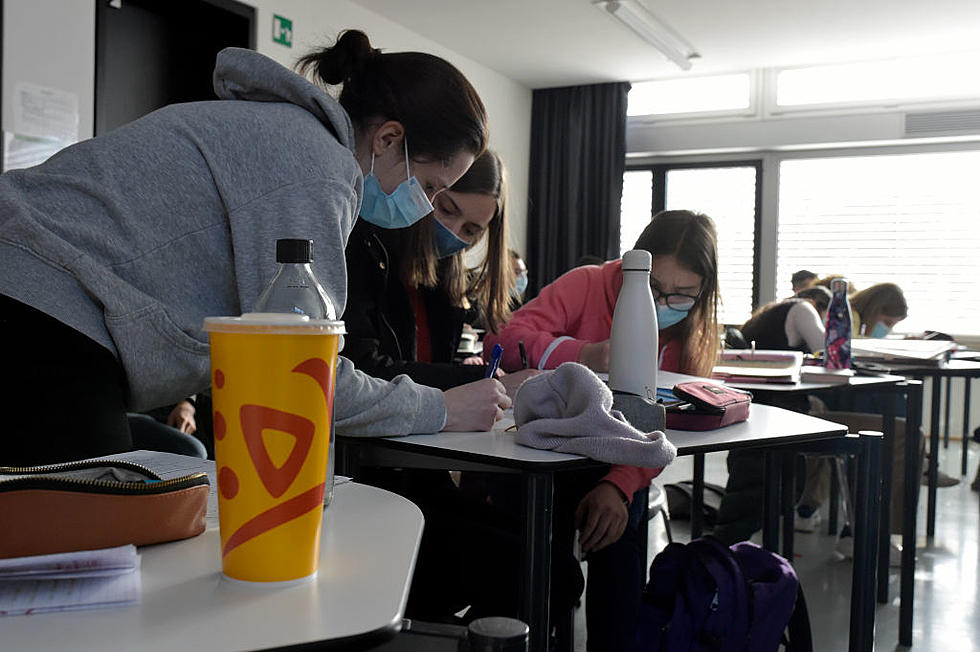 A School Mask Mandate Defiance Is Underway – Should Yakima Join
Getty Images
Conventional wisdom says it's best to "Strike when the iron is hot", which essentially means to act on an opportunity promptly while favorable conditions exist.
For Washington parents who want mask mandates dropped in their local school, the iron is glowing red hot right now.
Challenges To The State's Mandate
There are two school boards in Washington State that have recently voted to defy the Governor's mask mandates in favor of local parental choice and the threats are already coming in from Olympia.
The Tri-City Herald reports that Richland schools will be closed today 2/16/22 a decision by the school board to defy the state requirement that students wear masks inside buildings.
District officials said they need to plan a path forward as state officials are already working on warning letters that could threaten their funding. "We ask for your patience as the district works to ensure our schools can continue to serve all students," the district said in a message on its website late Tuesday.

 
But does saying it make it so?  The district has voted to proclaim that masks are optional, but state law still requires the schools and administrators to enforce the mask requirement putting administrators at crossroads with the state Department of Labor and Industries.
This action has no impact on the state's masking requirements. School boards are not empowered to supersede state law. It is null and void
Serving The Mask Master
Mike Faulk is Governor Inslee's deputy communications director and a former city beat reporter for the Yakima Herald-Republic.  He says,
The idea that they would cancel a day of school and disrupt students' and families' lives for the sake of politics speaks even more poorly of the majority's actions...Any debate about masks in this pandemic should be centered on science, science tells us masks work. They are an easy way for people to keep each other safe.
Kettle Falls School Board Sees The Light
But as KREM-TV in Spokane reports, Richland doesn't stand alone . The Kettle Falls School District (KFSD) has been sent an official warning from the state of Washington after its board voted to make masks optional for students and staff, in defiance of Gov. Jay Inslee's mask mandate....School board members in Kettle Falls voted Monday night, 2-14-22 to make masks optional for students and staff effective immediately.
Reykdal's Threat Runs Counter To His Beliefs
That may be the official toe-the-line position but Supt. Reykdal 's personal feelings would seem to be just the opposite, as heard here in a KING-5 News interview.
King Five adds that Kettle Falls School District Superintendent Michael Olsen said, " the district is prepared to use cash reserves if the state withholds money, but can only survive for about four to six weeks."
There Is Safety In Numbers And Opportunities Too
And THAT'S what I mean about the Iron being HOT right now.  Two districts are taking a stand already  But what if there were more, many more?  What if Yakima joined them?  And then Selah, Sunnyside, West Valley, and all the other districts up and down the Valley followed suit.  With that momentum, all school districts in the state opposed to masking mandates could be inclined to act.
Would the OSPI withhold funding from half the state?  How would that square with the State Constitution's prime directive of "fully funding education?"  Despite telling the Governor he supports dropping the mask mandates now, Supt. Reykdal is all in on the "Science of Inslee."
The Governor's proclamation has the power of law, and I will not hesitate to uphold the law consistent with my oath of office. I trust Governor Inslee and the state Department of Health to make additional changes to our health mitigation expectations consistent with the latest science, health outcomes, and opportunities for individuals to protect themselves from the most severe outcome of a COVID infection. Until they take those actions, the Kettle Falls School District and all other school districts need to follow the law and take shared responsibility for our collective ability to mitigate COVID risks
The Iron IS hot NOW.  Other districts should act NOW.  The Governor is expected to announce a "someday" date to end mandates, perhaps at tomorrow's news conference.  A wave of defiance by school boards across the state could turn someday into now.
How to Sew a Face Mask