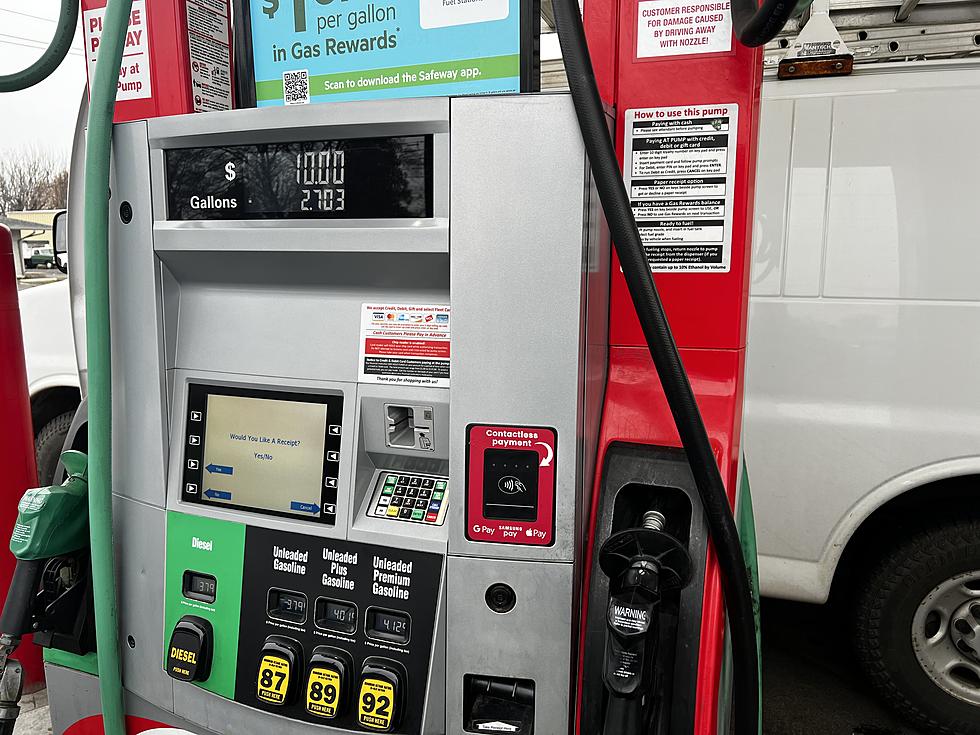 Looking For Cheap Gas? Take a Short Drive To Wapato
TSM/Ryder
It's the start of a new week and if you're driving to the gas station the average price per gallon in Washington state is $4.18 per gallon. But in Yakima the price is $3.81 per gallon down 0.3 cents over the last week according to GasBuddy's survey of 91 stations in Yakima.
IF YOU PURCHASE DIESEL YOU'LL FIND A CHEAPER PRICE THIS WEEK
Prices in Yakima are 9.5 cents per gallon higher than a month ago and stand 1.1 cents per gallon lower than a year ago. If you pump diesel the price has 6.9 cents in the last week and stands at $4.45 per gallon.
The national average price of gasoline is unchanged  in the last week, averaging $3.37.
A short drive to Wapato and you'll find the cheapest gas in the valley and some of the cheapest gas in the state.
YOU KNOW WHERE TO FIND THE CHEAPEST GAS
Gas in Wapato was priced at $3.49 a gallon on Sunday.
The lowest price in the state Sunday was $3.39 per gallon while the highest was $5.09 per gallon.
ALREADY PREPARING FOR THE SUMMER DRIVING SEASON?
"Motorists across many areas of the country have seen gas prices inching down for another week, while some states have moved higher. We've seen some refinery challenges in pockets of the country, while others are starting the transition to summer gasoline, weighing on prices. For diesel, the outlook remains bright with prices continuing to fall, " says Patrick De Haan, head of petroleum analysis at GasBuddy. "Oil prices have softened over the last week, helping to limit any upside at the pump, with strong economic data leading to concern that the Fed will continue to use interest rates to slow the economy. This could weaken demand as we head into the peak summer driving season. For diesel, the great news is that the most common price in the U.S. for diesel is now $3.99 per gallon, with average prices continuing to drop. In the next couple of weeks, diesel will finally flip to deflationary compared to a year ago, which is excellent news for the economy."
REMEMBER WHEN?
Historical gasoline prices in Yakima and the national average going back ten years:
February 20, 2022: $3.83/g (U.S. Average: $3.52/g)
February 20, 2021: $2.78/g (U.S. Average: $2.64/g)
February 20, 2020: $2.98/g (U.S. Average: $2.46/g)
February 20, 2019: $2.71/g (U.S. Average: $2.38/g)
February 20, 2018: $2.87/g (U.S. Average: $2.52/g)
February 20, 2017: $2.68/g (U.S. Average: $2.28/g)
February 20, 2016: $1.93/g (U.S. Average: $1.71/g)
February 20, 2015: $2.20/g (U.S. Average: $2.27/g)
February 20, 2014: $3.28/g (U.S. Average: $3.38/g)
February 20, 2013: $3.49/g (U.S. Average: $3.77/g)
Neighboring areas and their current gas prices:
Tacoma- $4.13/g, up 12.4 cents per gallon from last week's $4.01/g.
Seattle- $4.30/g, up 6.9 cents per gallon from last week's $4.24/g.
Washington- $4.10/g, up 10.0 cents per gallon from last week's $4.00/g.
LOOK: See how much gasoline cost the year you started driving
To find out more about how has the price of gas changed throughout the years, Stacker ran the numbers on the cost of a gallon of gasoline for each of the last 84 years. Using
data from the Bureau of Labor Statistics
(released in April 2020), we analyzed the average price for a gallon of unleaded regular gasoline from 1976 to 2020 along with the Consumer Price Index (CPI) for unleaded regular gasoline from 1937 to 1976, including the absolute and inflation-adjusted prices for each year.
Read on to explore the cost of gas over time and rediscover just how much a gallon was when you first started driving.
LOOK: Things from the year you were born that don't exist anymore
The iconic (and at times silly) toys, technologies, and electronics have been usurped since their grand entrance, either by advances in technology or breakthroughs in common sense.
See how many things on this list
trigger childhood memories—and which ones were here and gone so fast you missed them entirely.
See the Must-Drive Roads in Every State